Pork, lemon and fennel seed meatballs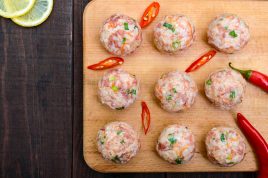 This bright and summery recipe is ideal for showing off the incomparable flavour of Adeys Farm's organic pork. Their pigs are bred to be suited to organic, outdoor living rain or shine, and to enjoy a sociable life in their family arc. They mature slowly for maximum flavour, but are crossed with Duroc boar to ensure they don't run to too much fat.
Ingredients (serves 4)

500g organic pork mince
70g fresh white breadcrumbs
Juice and zest of 1 lemon
2 tbsp fennel seeds
2 tbsp grated parmesan
A handful of finely chopped celery leaves
Seasoning
1/2 tsp of dried chilli flakes or 1 small fresh red chilli, very finely chopped (optional)
Olive oil, for frying
Method (takes 10 mins plus cooking time)
Put the pork into a mixing bowl and break up with a fork. Add the breadcrumbs, lemon juice and zest, fennel seeds, parmesan, celery leaves and a good pinch of seasoning. Add the chilli too, if desired. Mix well until all the ingredients come together evenly.
Use a generous tablespoon of pork mixture to shape the meatballs, placing on a clean plate as you go.
Heat the oil in a large flat-based frying pan ensuring the pan is well-covered by the oil. Once the oil is warm, fry the balls over a medium-high heat until all sides are golden brown (about 5 minutes). Lower the heat and leave to cook right through (about 8-10 more minutes). Carefully cut open one meatball to check they are cooked through, and remove from the heat.
Serve with a simple salad and rice, or try with a tomato or creamy sauce with pasta or potatoes.
< Back to Recipes