Pork and fennel meatballs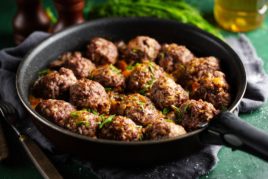 Over the years, we've built up quite a catalogue of delicious recipes for every occasion, and we wanted to share some of them with you.
First up is one of our favourite recipes from our very own catering manager, Lewis Griffiths. Lewis spent years working at the The Lido Restaurant and Flinty Red, and enjoys simple, delicious food.
The pork and fennel meatballs are perfect for an Italian feast, simply served with spaghetti. They also make a great summer dish accompanied with crisp salad and warm flatbread.
We can't resist a delicious foodie picture! Share and tag us in your creations on our Instagram and Facebook feeds. 
If you're short on time at the moment then don't despair! Our chefs have created this dish from 100% organic ingredients, including pork from Adeys Farm near Stroud. It's ready to pick up at every Better Food store for a quick, wholesome and tasty dinner.
Pork and Fennel Meatballs
Serves: 4          Time: 1 hr 30 mins         Level: Easy
Ingredients

For the sauce
2 large onions (finely diced)
3 cloves of garlic (finely minced)
2 teaspoons of olive oil
2 tins (400g) of plum tomatoes
1 teaspoon of tomato puree
5 piquillo peppers (washed and chopped)
1 teaspoon of sugar
2 bay leaves
½ a fresh chilli (finely chopped) – optional
For the salsa
350g of pork mince from Adeys Farm
1 teaspoon of fennel seed
2 teaspoons of finely chopped parsley
1 egg
½ a fresh chilli (finely chopped) – optional
1 teaspoon of salt
Big pinch of black pepper
To serve
50g grated parmesan or pecorino
Method
Gently simmer onions in olive oil in a large pan for 20 mins until sweet
Add tomato puree, garlic, bay leaves and simmer for 2 mins
Add the remaining sauce ingredients with seasoning and simmer for 30 mins
Put all meatball ingredients into a bowl and mix well, then knead a bit to bring together
Roll mix into small walnut sized balls
Roast in oven for 15 – 20 mins at 180°C / 160°C (fan) until slightly brown and caramelised
Add the sauce to finish cooking and simmer for a further 10 mins
Serve up and scatter the grated cheese on top to finish
This dish is delicious on its own, but if you want to take it further, add your favourite pasta, and crusty white sourdough from Bristol Loaf to mop up the sauce. You could even finish with fresh spinach at the end or by adding chopped black olives into the sauce.
< Back to Recipes