MUSHROOM AND CELERIAC RISOTTO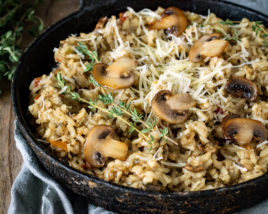 Winter comfort food. This risotto recipe pairs earthy mushrooms with the aromatic flavours of celeriac to create a delicious, hearty dish. Top it with grated cheese and it will really make your evening.
MUSHROOM AND CELERIAC RISOTTO
Serves: 4
INGREDIENTS
2 tbsp olive oil
4 sprigs of thyme, chopped
2 cloves garlic, crushed
250g celeriac, diced
250g risotto rice
A litre of veg stock
Salt
2 tbsp butter
60g hard vegetarian cheese
250g mushrooms
METHOD
Taking a heavy saucepan, heat the oil, thyme, garlic and celeriac on a moderate heat. Cook the celeriac until it begins to soften and the smell intensifies.
Add the rice, stir in, and follow with the stock, covering the pan and turning the hob down to a low heat.
Cook the risotto for 12 mins, and remove once the stock has been absorbed and the rice is just cooked.
Stir through a pinch of salt, the grated cheese and butter.
Into a separate pan, fry the mushrooms in a teaspoon of olive oil.
Serve up the risotto, with the mushrooms as a garnish.
< Back to Recipes