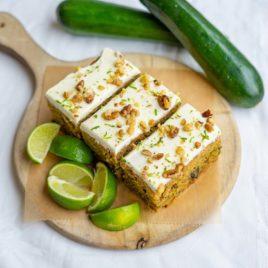 Our favourite way to use courgettes? It has to be courgette cake. This recipe for courgette cake makes a lovely, wholesome bake – perfect for those picnics, or for enjoying to yourself!
Courgette and Lime Cake
Makes 12 slices
Ingredients
3 Eggs
300g sugar
300ml olive oil
350g plain flour (sieved)
1 tsp baking powder
1tsp bicarbonate of soda
100g walnuts (toasted and chopped)
½ tsp cinnamon
4 allspice berries (finely ground)
1 ½ tsp ground ginger
Zest of 1 lime
300g courgette grated
For the icing:
125g Double cream
100g Crème fraiche
75g Icing sugar (sieved)
Method
Preheat the oven to gas mark 4/180C. Line and grease a 11 x 8 inch tray.
Into a large mixing bowl, whisk together the eggs, sugar and oil. Follow this with the dry ingredients and mix thoroughly. Next, add the courgette and fold into the batter.
Pour the batter into the cake tin and bake in the oven for 25-30 mins, or until risen and a skewer comes out clean.
Whilst the cake is baking, start preparing the icing. Into a separate mixing bowl, whisk the double cream into stiff peaks, then thoroughly combining the creme fraiche and icing sugar.
Set the cake out onto a cooling rack and leave to cool for 10 mins. Spoon out the icing over the cake and smooth with a spatula or spoon. Top the cake with the chopped walnuts and lime zest.
Slice, serve up and enjoy!
Fancy 10% off your ingredients? Sign up to our newsletter today and get a voucher to your inbox: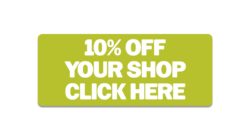 < Back to Recipes