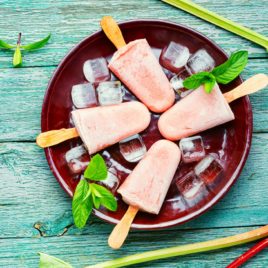 Did you know rhubarb lollies are delicious? The perfect balance of tartness and sweetness – this seasonal, local vegetable makes a lovely vegan treat for yourself or the family this weekend!
VEGAN RHUBARB ICE LOLLIES
Makes: 4
Ingredients
400g rhubarb, chopped into 2cm pieces
40g caster sugar
1 vanilla pod, split lengthways
300g vegan yoghurt
2 tbsp maple syrup
Method
Add the rhubarb to a pan along with the sugar and vanilla pod. Bring to the boil slowly, simmering for a further 5 mins until the rhubarb has softened. Take off of the heat and run through a blender until relatively smooth (you may find bits but these are still tasty!)
Whisk together the rhubarb and the yoghurt, incorporating the maple syrup until thoroughly combined.
Pour the lolly mix into four molds and add a stick or similar to each. Pop the lollies into the freezer for 2-4 hours until completely solid. When solid, run the moulds under hot water to release the lollies and enjoy immediately for a lovely wholesome treat.
< Back to Recipes