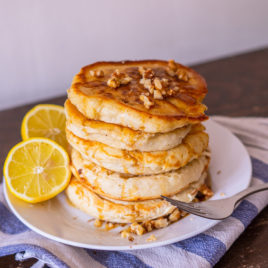 Happy Pancake Day! We had so much fun making these tasty vegan scotch pancakes. They're very quick and very easy to make. Serve them up with a good squeeze of lemon and maple syrup for a delightful treat!
VEGAN SCOTCH PANCAKES
Makes: 5          Time: 30 mins
INGREDIENTS
125g self-raising flour
2 tbsp caster sugar
1 tsp baking powder
good pinch sea salt
150ml soya milk or almond milk
¼ tsp vanilla extract
4 tsp sunflower oil, for frying
To serve:
Half a lemon
Maple syrup
Vegan yoghurt
A handful of walnuts, chopped roughly
METHOD
Into a large mixing bowl, pour the flour, sugar, baking and salt – mixing together thoroughly. Next, add the milk and vanilla extract, taking a whisk and folding the mixture together until smooth.
Place a large non-stick frying pan over a medium heat. Add 2 teaspoons of the oil and wipe around the pan with a heatproof brush or carefully using a thick wad of kitchen paper.
Once the pan is hot, pour a small ladleful (around two dessert spoons) of the batter into one side of the pan and spread with the back of the spoon until around 10cm in diameter. Make a second pancake in exactly the same way, greasing the pan with the remaining oil before adding the batter.
Cook for about a minute, or until bubbles are popping on the surface and just the edges look dry and slightly shiny. Quickly and carefully flip over and cook on the other side for a further minute, or until light, fluffy and pale golden brown. If you turn the pancakes too late, they will be too set to rise evenly. You can always flip again if you need the first side to go a little browner.
Pop the oven onto a low heat and keep the pancakes warm on a baking tray. Once all the pancakes are made, serve up with a squeeze of the fresh lemon, dollop of yoghurt, a good dowsing of maple syrup and a sprinkling of nuts.
< Back to Recipes