Organic Superfood Granola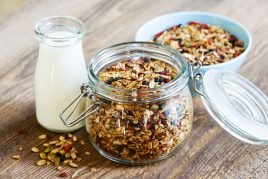 Our friend Elly from The Pear Cafe created this delicious Organic Superfood Granola for Wake Up To Organic 2015. She has allowed us to post it on our site so our customers can give it a go. All the ingredients can be found in store and all are available as certified organic.
ORGANIC SUPERFOOD GRANOLA
Serves: 6          Time: 45 minutes          Level: Easy
Ingredients
200g honey
4 tbsp oil (rapeseed or coconut)
300g jumbo oats
50g whole almonds, very roughly chopped
3 tbsp jumbo raisins
1 tbsp raw cacao powder
1 tsp ground cinnamon
2 tbsp pumpkin seeds
25g puffed buckwheat (or puffed oats)
2 tbsp goji berries
2 tbsp hemp seeds
Method
Melt the honey and the oil together in a large saucepan over a low heat.
Add the oats and almonds and stir really well.
Spread out on a large baking tray lined with greaseproof paper and bake at 180C (fan) for 17 minutes.
Leave to totally cool then break up into chunks. Place in a large bowl and add all the remaining ingredients.
Keep in an airtight jar or Tupperware box.
Serve with cold or warm milk, or yogurt and top with fruit. Blueberries, raspberries and banana all work well.
< Back to Recipes