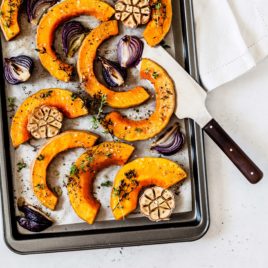 Taken from his book, Food for Thought, Better Food founder Phil Haughton shares his favourite way to enjoy seasonal squash.
When I was little no one even knew what a squash was. We had Halloween pumpkins, but that was it. I think my mum started to grow a few in the early 1970s. Certainly, by the time we had a garden at Lothlorien, the community I lived in, we were growing and eating squashes.
Now they are everywhere and butternut is the biggest seller by far.
Butternut is indeed a great squash, but don't let that limit you from exploring the huge variety that are on offer these days. Box schemes tend to grow small ones that fit the size and value of the box, which may mean box scheme customers are missing a plethora of the larger varieties. So, it's the allotment holders who rule the roost for squash varieties. In shops like Better Food you can buy a huge range for at least five months of the year.
Of course, they all behave and taste slightly differently from each other, so no one recipe will fit all.
The great thing with squash is that whatever you do with it, if your recipe hasn't worked well or you have leftovers you can always turn it into a delicious soup.
Here is a roast recipe I made up inspired by a Jamie Oliver recipe from 2005.
ROASTED SQUASH
Ingredients
One squash
A glug of olive oil
Seasoning
A handful of fresh herbs
A scattering of chilli flakes
Method
1. Heat your oven to 180°C.
2. Carefully cut the squash in half, take out the seeds and cut the rest into wedges about 2.5 cm or so across at the widest point leaving the skin on. Put these into a large roasting tin.
3. Make up a rub with olive oil, salt, pepper, some fresh herbs such as sage, thyme or rosemary chopped roughly and a sprinkle of chilli flakes. Mix together and then rub into the squash. Spread out in the tin with spaces between each wedge so they have a bit of air around them. Jamie suggested you throw in the seeds, but this will depend on how big and tough they are. Try it and see.
I also like to add a few cloves of garlic – skin on. Bang the garlic to crack the skin before placing them around the squash. The flavour spreads to lift the dish beautifully.
4. Cover the tray with foil and bake for about 20 minutes. Take the foil off and roast off for another 15 or so minutes to get a bit of golden colour.
5. Try this with a cumin yoghurt dip. One teaspoon of ground cumin to 400ml of yoghurt.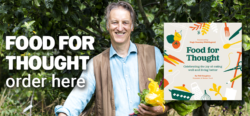 < Back to Recipes