Parsnip, mushroom and Stilton Pie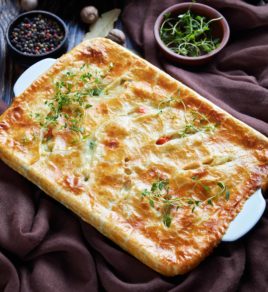 What do we crave when the wintry weather arrives? Wholesome food. This recipe for parsnip and mushroom pie is the perfect food for a lazy day indoors. Celebrating the freshest seasonal ingredients. Add a hearty salad and your job here is done.
Parsnip, mushroom and Stilton Pie
(Serves 12)
Ingredients
450g plain flour
275g unsalted butter, diced
3 large parsnips, chopped into cubes
500g mushrooms
1 large onion, chopped finely
2 cloves of garlic, chopped roughly
20ml white wine
568ml semi-skimmed milk
150g Stilton, crumbled
Method
Sift the flour and a pinch of salt into a large mixing bowl. With your fingertips, rub in 200g of the butter. You want fine breadcrumbs. Add a pinch of pepper followed by 4-6tbsp cold water. Mix using your hands to create a firm dough. Wrap in beeswax wrap and pop into the fridge to chill for 20 mins.
Steam the parsnips for around 20 mins, until just tender. Next, wash and roughly chop your mushrooms. Heat 25g of the remaining butter into a saucepan and add your mushrooms, onion, garlic, a dash of white wine and seasoning. Cook for 5 mins or until golden. Remove and set aside.
Preheat the oven to gas mark 7/220°C. Melt the last of the butter into a saucepan and stir in the rest of your flour. Cook gently for 2 mins. Take off the heat and gradually stir in the milk, mixing thoroughly with each addition. Return to the heat and bring to boil, stirring all the time, finishing off by adding your crumbled Stilton. Season and simmer for 2 mins. Remove and incorporate the vegetables.
Cut a third off the pastry and set aside. Roll out the rest and use to line a medium baking tin or pie dish. Pour your vegetables and Stilton sauce into the pie case and lay the remaining pastry, rolled out, over the top to seal. Press the edges together. Brush the top with a little milk and bake for 30-40 mins, or until the pastry is golden.
< Back to Recipes