Roasted, Stuffed Cauliflower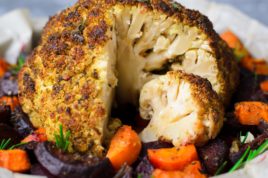 Don't settle for sides this Christmas, our roasted, stuffed cauliflower makes a tasty centrepiece for any festive spread.
Roasted, Stuffed Cauliflower
(Serves 2)
Ingredients
1-2 small cauliflowers
Olive oil
4 tbsp breadcrumbs
30g refill cashews, crushed finely
For the stuffing:
250g spinach
1 tbsp milled linseed
1 onion, diced
2 garlic cloves, crushed
Three sprigs fresh rosemary
2 lemons, zested
1 tsp nutmeg
Method
Trim and discard the cauliflower leaves. Turn upside down and cut out most of the stalk, leaving the florets attached.
Bring a large saucepan full of water to the boil and place your cauliflower inside. Boil for 7 mins, before lifting and setting to one side.
Drain most of the water. Add your 250g of spinach and wilt it in the hot water for no more than 2 mins. Drain the rest of the water and strain any excess water from the spinach.
Mixed the milled linseed with 3 tbsp water. Set to one side for 3-10 mins or until becomes sticky.
Heat a tbsp of olive oil into a frying pan. Add your onion, a pinch of salt, add the spinach and the remaining stuffing ingredients. Cook for a minute or so further.
Remove the stuffing from the heat, before seasoning well, adding 150ml of water and the linseed paste. Place this mix into a blender and blitz until well combined. Taking a spoon or piping bag, place the mix into as many of the nooks and crannies of the cauliflower as you can.
Transfer the cauliflower to a baking tray. Turn the oven onto Gas Mark 6/180 C.
Mix the crushed cashews, breadcrumbs and seasoning together in a bowl. Cover your cauliflower with 2 tbsp of olive oil, before patting on the breadcrumb mix.
Roast for 45 mins, or until golden. Place under the grill for the last 10 mins or so, to crisp up the topping, before serving.
< Back to Recipes