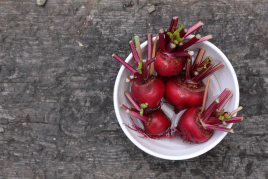 Lovely with sausages or in a sandwich, pickled beetroot also goes well with cold meats and cheeses.
Cooked Pickled Beetroot
Serves: 3          Level: Medium
Ingredients
4-6 beetroots (about 300g)
90g light brown sugar
125ml red wine vinegar
125ml water
1/2 tsp salt
3 cloves
1 stick of cinnamon
1 dried red chilli
2 bay leaves
Method
Preheat the oven gas mark 6/200°C/180
Sprinkle the salt on the bottom of a roasting tin, it seems like a lot, but it is there to draw moisture, not to season. Place the whole beets, skin and all, on the salt and place in the centre of the oven for 30 minutes. Check if they're cooked with a small knife, it should enter them easily. If there is any resistance, leave them in for an extra 10-15 minutes as necessary. The speed at which they cook depends on their freshness and so it is hard to be precise about cooking times. Remove the cooked beets from the salt and place them in a bowl. Allow them to cool.
With a little knife, top and tail the beetroots, and then the skin should just rub off. It's best to use disposable gloves, if you have them, to stop your hands going pink. Cut the beetroots into wedges (each one can be cut into 8-10 wedges) and place in an airtight container.
Heat all the remaining ingredients together and bring to the boil. Pour over the beetroots, including all the spices, and seal the container. Leave to cool to room temperature, then place in the fridge.
The beetroots will be ready to eat the next day but will improve with time. If stored in an unopened airtight container, they can last for up to a month in the fridge, but once opened they should be eaten within 2 weeks.
< Back to Recipes