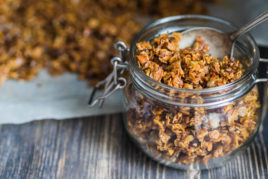 Most of the ingredients can be purchased from our refill section, and this basic recipe can be tweaked to your liking.  Dial down the honey/syrup and increase the oil if you want it less sugary or switch out the type of seeds, nuts and dried fruits for your favourites!
Ingredients
340g Honey/agave syrup
4 Tbsp Coconut Oil
1 Tsp Ground cinnamon
500g Jumbo oats
200g Chopped walnuts
100g Gourmet Seed mix
200g Dried dates, chopped
Method
1. Preheat the oven to 200°C/180°C fan. Put the honey and coconut oil in a large pan and gently warm until the oil liquifies and bubbles start to appear in the honey.
2. Remove from the heat and stir in the cinnamon.  Then stir in the oats, nuts and seeds to coat them in the honey and oil.
3. Spread out the oat mixture onto a baking tray and place in the oven.  Bake for 20 minutes, gently mixing halfway through so it browns evenly.
4. Once the granola is golden, let it cool before adding the dates, and putting into an airtight container.
< Back to Recipes