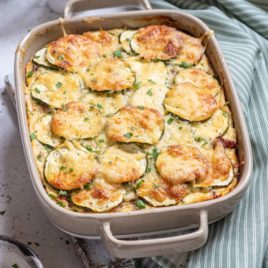 Courgettes are so very welcome in the summer. In fact, we really miss them when they're gone! That's why we're taking every moment we can to enjoy this delicious treasure, including this tasty gratin recipe.
Serve it up with a lovely handful of greens, topped with zesty lemon for the perfect meal of the day.
COURGETTE GRATIN
Serves: 4
Ingredients
2 tbsp olive oil
800g courgettes, sliced into thin rounds
3 cloves of garlic, crushed
few basil leaves
salt and freshly ground black pepper
100ml single cream
50ml milk
1 tsp plain flour
75g cheddar, grated
Method
Preheat the oven to gas mark 6/200C.
Pop the olive oil into a large frying pan. Add the courgettes, garlic and basil leaves and season well.
Cover and cook on a low heat for 10 mins, stirring every so often, until the courgettes soften.
Transfer to an oven-proof dish. Whisk up the cream, milk and flour together in a bowl. Season with salt. Pour the mixture over the courgette slices. Add the cheese and bake in the oven for 25 mins, or until golden and bubbling.
Serve up with buttery potatoes and a fresh salad.
FANCY 10% OFF YOUR FAVOURITE ORGANIC INGREDIENTS? SIGN UP TO OUR EMAIL AND GET A VOUCHER STRAIGHT TO YOUR INBOX.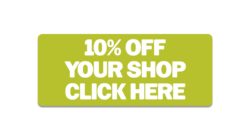 < Back to Recipes