Warm Fresh Borlotti Bean Salad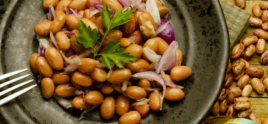 From Phil Haughton (Better Food's Founder)
I have had a love of borlotti beans ever since I first found them in Italian markets, fresh and ready to cook.
An end-of-summer bean salad with fresh borlotti beans is like heaven. Here is just one recipe, but make up your own, being sure to use whatever you have in the garden to complement the beans.
Warm Fresh Borlotti Bean Salad
Serves: 6          Time: 50 mins (exc. shelling the beans)          Level: Easy
Ingredients
About 1.2kg fresh borlotti beans (600g shelled weight)
400g runner beans, strings removed, sliced diagonally
100ml extra-virgin olive oil & extra for drizzling
2 onions, thinly sliced
3 garlic cloves (cut in half lengthways)
Small bunch fresh sage leaves, roughly chopped
Small bunch fresh oregano leaves, roughly chopped
600g vine tomatoes, roughly chopped
Pinch of sea-salt
Pinch of chilli flakes (optional)
Pinch of sugar (optional)
300ml vegetable stock
A good dollop mascarpone (to serve)
Method
1. Heat the oven to 190°C/375°F/Gas 5.
2. Start by shelling your borlotti beans. Remove any beans that are not mature. You know they are mature if they have the same red speckles as the pods. Discard any that are green or off-white.
3. Place the borlotti and runner beans into a baking dish. Drizzle over the olive oil and pour over the stock to cover. Add the onions, garlic, chopped tomatoes, oregano and sage, sprinkle over the salt, sugar (optional) and chilli flakes (optional).
4. Cover with foil and place in the oven. Cook for 45 minutes or until the beans are tender to the bite.
5. Serve warm, with a dollop of mascarpone and drizzle of olive oil.
6. Mop up with Bristol Loaf sourdough!
< Back to Recipes