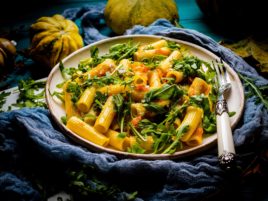 This recipe has been supplied by our Social Media man David, who in his other life is an avid and very knowledgeable allotmenteer. All his recipes are flexible in terms of ingredients and quantities, depending on what he has in abundance at various times of the growing seasons.
Serves: 4              Time: 30 mins          Level: easy
Ingredients
2 tbsp margarine
1 large onion, chopped
1 medium-sized squash, roughly peeled and chopped into small cubes
800g chopped tomatoes
2 cloves of garlic, crushed
Handful basil or rosemary, roughly chopped
Seasoning, to taste
300g penne
Method
Melt the margarine in a heavy bottomed saucepan.
Coat the onion, and add the squash. Fry on a medium heat for 8-10 mins.
Once the onion and squash starts to colour, add enough water to cover.
Boil down the squash until tender, keeping an eye on the water to make sure the chunks don't burn – this should take around 20 mins.
Meanwhile, cook the pasta in the normal way.
Once the squash is soft, add the chopped tomatoes and broccoli, cooking for a further 8 minutes.
As the sauce cooks, pop in your chopped garlic. Stir through the sauce thoroughly.
Take off the heat, add the basil and seasoning and serve.
See our squash guide for more information on the varieties we have in store.
< Back to Recipes