Rhubarb and Chocolate Cake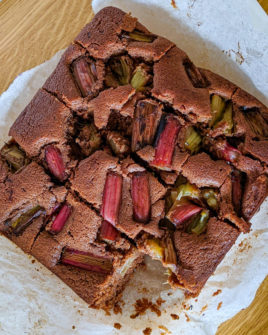 Looking to experiment with rhubarb? Look no further. This moist, stodgy chocolate cake is complimented perfectly by the tangy but sweet rhubarb.
A lovely late spring dessert to enjoy on its own or with ice cream!
Rhubarb and chocolate cake
Serves: 6
Ingredients
2 stalks of rhubarb, chopped into 1cm chunks
200g golden caster sugar, plus extra for the rhubarb
200g unsalted butter, softened plus extra for the rhubarb and tin
4 large eggs
200g self-raising flour
2 tbsp cocoa powder
1 tsp baking powder
½ tsp vanilla extract
2 tbsp milk
Method
Place a saucepan with a tablespoon of the butter onto a medium heat. Add the rhubarb and a teaspoon of the caster sugar and cook for 8 mins or until the rhubarb stalks begin to turn golden. Remove and set to one side.
Preheat the oven to gas mark 4/180C. Grease and line a loaf tin.
Into a mixing bowl, cream together the caster sugar and butter. Combine the flour, cocoa powder and baking powder together in a separate bowl. Next, sift a little of the flour with each egg, gently folding into the mix until you've incorporated everything. Drop in the vanilla extract and the milk, giving everything a good stir.
Pour the batter into the cake tin and press the rhubarb pieces on top. Bake in the oven for 25-30 mins, or until firm to the touch and a skewer comes out clean.
Enjoy this cake with a little ice cream for a yummy May dessert!
< Back to Recipes