Courgette and beetroot salad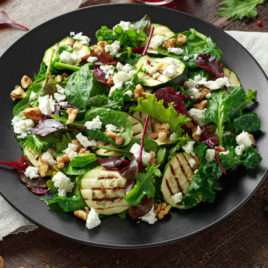 A lovely, simple recipe for early summer. Enjoy this courgette and beetroot salad as a light lunch, or have it as a wholesome side.
Courgette and beetroot salad
Serves: 2
Ingredients
3 beetroot, washed and cut into quarters
2 courgettes, sliced lengthways into 1cm thick pieces
1 tbsp olive oil
Seasoning
1 tsp cumin
200g salad leaves
1 lemon, juice of
100g walnuts, chopped
100g feta cheese, chopped in chunks
Method
Preheat the oven to gas mark 7/190C. Arrange the beetroot pieces and courgettes onto a baking tray and drizzle over the oil,
seasoning and cumin. Bake in the oven for 35-40 mins until golden.
Into a large mixing bowl, add the salad leaves, squeeze over the lemon juice, add the chopped walnuts and cheese and mix with a large spoon.
Serve up the leaves and arrange the courgette and beetroot on top. Tuck in and enjoy this lovely early summer treat.
< Back to Recipes