MUSHROOM AND TEMPEH NOODLES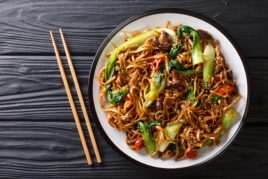 Easy, vibrant and delicious. This quick noodle dish makes 4, so ideal for your family or to save portions back for later in the week! Our scrumptious mushrooms and sweet shallots make this recipe even better…
MUSHROOM AND TEMPEH NOODLES
Serves: 4
INGREDIENTS
2 stock cubes
4 nests of vegan noodles
1 head of cabbage, shredded
1 tbsp olive oil
250g tempeh, cut into 1cm cubes
4 shallots, quartered
1 leek, chopped widthways
500g mushrooms, chopped roughly
2 cloves of garlic, crushed and diced
1 tsp chilli flakes
1cm piece of ginger, grated
4 tbsp soy sauce
1 tbsp maple syrup
A couple of handfuls of chopped cashews, to serve
METHOD
Into a large saucepan, pour boiling water up to the halfway mark. Add the stock cubes and bring the water to the boil. Drop in the noodles, as well as the shredded cabbage and cook for 4 mins. Remove from the heat, reserve a cup of the stock water and drain the rest. Set the noodles and cabbage to one side.
Taking a wok, heat the olive oil and follow through with the tempeh, shallots and leek, cooking for 5 mins, or until starting to brown. Next, add the reserved stock water, garlic, chilli flakes, ginger, soy sauce and maple syrup, giving everything a really good stir to incorporate and season well as you do. Cook on a medium heat for a further 5 mins.
Next, pop the noodles and cabbage in with the vegetables and toss together until well mixed. Serve the noodles up with the cashews and store any leftovers for up to three days in the fridge.
< Back to Recipes