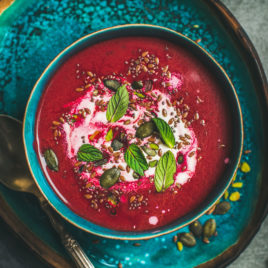 Beetroot soup is one of our favourites. This recipe might take time, but it will pay you dividends with a lovely bulk of lunchtime meals for the weekend.
SPICY BEETROOT SOUP (VG)
Serves: 6          Time: 1 hr
Ingredients
For the chilli paste:
2 garlic cloves, crushed
3 red chillies (deseeded for a milder soup)
5cm chunk of fresh ginger, grated
The juice of 1 lime
The soup:
500g beetroot, washed
1 tbsp olive oil
2 onions, diced
1 tsp cumin seeds
2 veg stock cubes
400ml coconut milk
Seasoning
To serve:
Vegan yoghurt
Handful fresh mint or coriander
Method
Begin by adding all the paste ingredients to a blender and blending until smooth. Set to one side.
Into a large saucepan, add the beetroot and cover with boiling water. Place a lid over the top and cook the beetroot on a medium flame for around 30 mins, or until soft when pierced.
Once the beetroot is easy to pierce, remove from the heat and fish the beetroot out of the water. Depending on how much water you have left, use part or all to mix the veg stock cubes into. Set both the beetroot and the stock to one side.
Into a large saucepan, heat the olive oil. Add the onions and cumin seeds and cook until the onion begins to brown. Chop the beetroot into rough chunks and add to the pan and follow this with the veg stock water. Follow with the coconut milk and seasoning, before popping a lid over the soup and leaving it to simmer on a medium flame for 20 mins.
Once the beetroot has broken up into the soup, remove from the hob and blend everything again to create a lovely, smooth consistency. Use a hand blender if easier.
Serve up with a good dollop of vegan yoghurt and fresh torn mint or coriander for a warming, filling treat!
< Back to Recipes