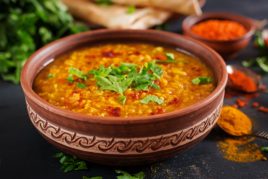 Over the years, we've built up quite a catalogue of delicious recipes for every occasion, and we wanted to share some of them with you.
First up is our go-to vegan comfort dish from our very own catering manager, Lewis Griffiths. Lewis spent years working at the The Lido Restaurant and Flinty Red, and enjoys simple, delicious food.
We can't resist a delicious foodie picture! Share and tag us in your creations on our Instagram and Facebook feeds.
If you're short on time at the moment then don't despair, our chefs have created the dish from 100% organic ingredients. It's ready to pick up at every Better Food store for a quick, wholesome and tasty dinner.
Homemade Red Lentil Dal
Serves: 4          Time: 1hr          Level: Easy
Ingredients
250g of red lentils
2 large onions (finely diced)
4 cloves of garlic (finely chopped)
4 cm of fresh ginger (finely chopped)
2 tsp of coconut oil
2 tsp of mustard seed
2 tsp of cumin seed
1 1/2 tsp of ground turmeric
1/2 tsp of ground fenugreek
3 pods cardamom, ground
1/2 tsp of ground cinnamon
1 tin (400g) of plum tomatoes
Half a lemon (juice)
550ml of water
Seasoning
Method
1. Soak the lentils for 20 mins in cold water
2. Add the coconut oil to a large saucepan and gently fry the mustard and cumin seed until the seeds start popping
3. Next, add the onions and cook until soft. Follow this with the garlic and ginger, cooking for 4 mins. Finally, add the remaining spices and cook for a further minute. Drain your lentils
4. Pour in the tomatoes, soaked lentils and fresh water, stirring everything thoroughly. Bring the pan to a boil and then simmer 25 mins, adding water and stirring when the mixture starts to stick too much. Taste the mixture and season appropriately
5. Once your lentils are soft and cooked, take a masher or whisk and run through, taking care not to lose too much of the texture
6. Serve up your dal with a handful of chopped coriander and a dollop of seasoned yoghurt
PS. You can also serve this up with a zesty green chutney and warm flatbread.
< Back to Recipes