Better Food's Wintery Warming Dal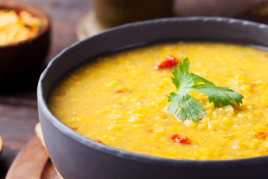 Dal (or dhal or dahl or daal) – that most perfect of comfort foods, cheap, tasty, filling, nourishing. This recipe is a great 'basic', and no less delicious for it. It's one of the dishes we're serving during the Bristol Dal Trail (2019).
Serves: 4
Prep time: 20 minutes
Cooking time: 30-40 minutes
Ingredients
200g split red lentils
1 small bunch fresh coriander
1 onion, peeled and chopped
Fresh ginger 2cm chunk, peeled, thinly sliced
Fresh turmeric, peeled, 1cm chunk, thinly chopped (or 1 tsp ground turmeric)
2 cloves garlic, peeled and crushed
1 mild green chilli, finely chopped
1 tsp black mustard seeds
1 tsp sunflower oil or ghee
Salt to taste
½ tsp ground coriander
½ tsp ground cumin
To garnish
Juice of 1 lime
Toasted desiccated coconut
Chilli flakes
Coriander leaves
Salt
Spoonful of dairy or vegan yogurt on top
Method
Rinse the lentils, drain and soak for 30 mins in a bowl of cold water.
Remove the leaves of the coriander bunch and put to one side.
Finely chop the stems and place in a mixing bowl. Add the onion, ginger, fresh turmeric, garlic and chilli and mix together. For a smoother consistency, you can blend them into a paste in a food processor.
Place the mustard seeds in a heavy-bottomed saucepan over a medium heat. When they begin to pop, add the onion mix and sunflower oil, salt, stir and cook on low heat for 10 minutes. Be careful not to let the seeds burn as this will spoil the flavour.
Add the ground coriander and cumin and continue to cook for another 5 minutes, stirring to stop the mixture sticking or burning.
Add the lentils with their soaking water. Simmer for about 30 minutes, stirring regularly, until the lentils are fully cooked.
Chop the reserved coriander leaves and fold gently into the dal.
To serve
Add lime juice, desiccated coconut, chilli flakes and a dollop of natural yoghurt to taste.
< Back to Recipes