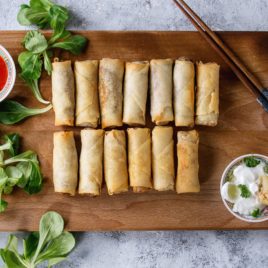 Spring rolls are quick to make, and they are a great way to get the kids involved, too.
SPRING ROLLS
Makes: 8 – 10
Ingredients
300g rice noodles
cooked 400g mixed chopped cabbage, carrots, spring onions and sweet peppers
140g mushrooms, chopped into strips
100g jackfruit, shredded into a bowl
2 garlic cloves, chopped 1cm of ginger
finely chopped Splash of soy sauce
Chinese 5-spice powder, for sprinkling
10 sheets of filo pastry
Method
-Heat the oven to gas mark 6/200C.
-Put the mixed vegetables, mushrooms, jackfruit, garlic, ginger, soy and spices into a bowl and mix together.
-Lay a sheet of pastry down and place a good dollop of the mixture into half of the pastry and roll up, sealing the ends. Repeat until all the sheets are used up.
-Place the rolls onto a baking tray with the seam down. Bake for 25 mins, or until golden.
< Back to Recipes