Cauliflower and Chickpea Curry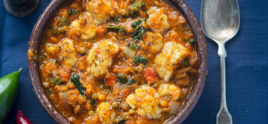 This recipe is a cafe favourite, and contains several pollen-busting ingredients, high in vitamin C and quercetin (natural anti-histamines), and capsaicin-filled spices – all good for clearing congestion.
All our cafes have 4 star Organic Served Here awards, guaranteeing the version you'd be eating in a Better Food cafe would be made using 93% organic ingredients.
Serves: 4-6 // Preparation time: 15 minutes // Cooking time: 30 minutes
Ingredients
1 medium-sized cauliflower, trimmed and cut into florets
2 tbsp sunflower oil
3 onions, finely chopped
4 garlic cloves, chopped
1 tsp freshly grated ginger
1 tsp garam masala
1 tsp ground fenugreek
1 tsp mustard seeds
1 tsp fennel seed
1 tsp cumin seeds
400g tin plum tomatoes
400g tin chickpeas
1 green chilli, sliced
Handful of coriander, chopped
Salt and black pepper
Method
Cook the cauliflower in salted boiling water until nearly
cooked, then drain.
Meanwhile, heat the oil and fry the onion and garlic on a
gentle heat for about 5 minutes. Once soft, add the ginger
and other spices, stir and cook for a further 2 minutes.
Add the tomatoes and chickpeas to the onion mix. Cook on a medium heat to reduce the liquid slightly.
Add the cauliflower and sliced chilli.
Cook for 10 minutes on a low heat, stirring occasionally.
Stir in the coriander, season to taste and serve.
< Back to Recipes