Chocolate beetroot and date cake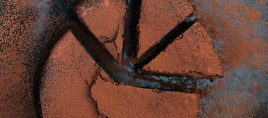 At certain times of the year, gluts of veg mean we can get creative with what we do with them. Here's a super-simple, finger-licking recipe for a beetroot-based chocolate cake. Gluten free and refined sugar free.
CHOCOLATE BEETROOT AND DATE CAKE
Ingredients
400g pitted dates
200g cooked beetroot
1/2 tsp tamari soy sauce
125g cocoa powder
4 eggs
130ml olive oil
Grated zest of 1 orange
2 tsp baking powder
Method
1. Put the dates in a pan with a big splash of water and simmer on a low heat until they form a smooth puree, stirring occasionally.
2. Roast the beetroot in a low oven (whole, so skin is easily removed – cooking times vary depending on size)
3. Put these into a blender or food processor with the tamari sauce and cocoa and whizz until the mixture is combined.
4. Put the mixture into a prepared 23cm baking tin and cook for 25-30 mins at 180 degrees C (160 fan oven/gas 4)
5. Allow it to cool in the tin before taking out and cutting.
< Back to Recipes