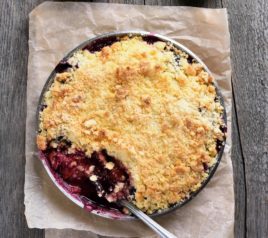 As plums arrive into our produce areas, this recipe is one delicious way to celebrate them! Make it with butter, or swap out for a vegan-friendly dessert.
Plum Crumble
Serves: 6
INGREDIENTS
800g ripe cooking plums, halved with stones removed
50g light brown sugar
1 tsp ground cinnamon
1 tsp plain flour
For the crumble:
250g plain flour
150g vegan butter, diced
80g caster sugar
80g demerara sugar
50g ground almonds
METHOD
Begin by heating the oven to gas mark 5/190C. Into an ovenproof dish, add the plum halves, along with the sugar, spices and flour. Give everything a good stir to mix before placing into the oven for 25-30 mins.
Next, rub the small chunks of butter together with the flour and caster sugar to create crumbs. Be careful not to overdo this step, very light crumbling needed!
Once the plums are soft and bubbling, remove from the oven. Lay the crumble mix on top, adding the demerara and almonds. Bake in the oven for a further 30 mins, or until golden on top.
Leave to cool for 15 mins before serving up with ice-cream, or yummy vegan custard.
< Back to Recipes