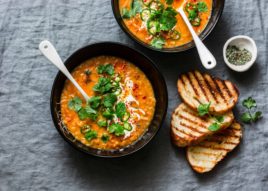 Carrots are beautiful in curry. Serve this seasonal dish with a lovely dollop of vegan yoghurt, fresh coriander and yummy naan bread.
Carrot and pea curry
Serves: 4
INGREDIENTS
1 tbsp olive oil
1 tbsp cumin seeds
2 onions, diced
1cm ginger, grated
1 tsp tumeric
1 tbsp chilli flakes
1 chilli, diced and seeds removed
1 tsp caster sugar
1 tbsp curry paste
400g carrots, chopped into 1cm chunks
3 cloves of garlic, crushed and chopped finely
1 veg stock cube
400g chopped tomatoes
400g coconut milk
Squeeze of a lemon
200g frozen peas
METHOD
Heat the oil into a large saucepan over a medium heat. Add the cumin seeds and cook for a couple of mins. Follow this with the onions, ginger, turmeric, chilli flakes, chopped chilli, caster sugar and curry paste. Give everything a thorough stir and allow the ingredients to catch a little on the pan, being careful not to burn. Add a little dash of water to stop the mixture becoming too dry.
Next, pour in the carrots and garlic, frying them off for 5 mins. Crumble over the veg stock cube and add a splash more of water. Season well.
Finally, pop in the chopped tomatoes, coconut milk and lemon juice. Give everything a good stir, turn the hob down to a simmer and cook the curry for around 10 mins, or until the carrot softens. Taking a hand blender, remove the pan from the heat momentarily and blitz together.
Pour in the peas, place the curry back onto the pan for a further 20 mins on a gentle simmer before serving up with fresh coriander, a dash of yoghurt and naan bread.
< Back to Recipes