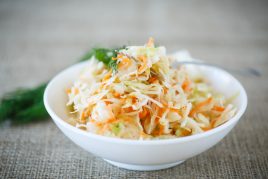 Kohlrabi is a German word meaning cabbage (Kohl) and turnip (Rabi). While it may look like a foreign food, it is a European native and a member of the mustard family. Because it is crisp, juicy and has a slightly creamy taste, it makes a fantastic slaw. Also try it as an alternative to potato in mash, roasted with salt and olive oil, or sliced thinly in salads.
Kohlrabi slaw
Serves: 4-6          Time: 1hr 30          Level: Easy
Ingredients
100g mayonnaise
3 tbsp olive oil
3 tbsp apple cider vinegar
2 tbsp whole-grain mustard
3/4 tsp fennel seeds
pinch of salt and freshly ground black pepper
1 large or 2 small apples, peeled and shredded
2 kohlrabi, peeled and shredded
1/4 small green or red cabbage, finely sliced into strips
1 carrot, washed and shredded
1 celery rib, thinly sliced on the diagonal, and celery leaves
Method
In a large bowl, whisk the mayonnaise with the olive oil, vinegar, mustard, fennel seeds, salt and pepper.
Add the vegetables and toss well.
Cover and refrigerate for 1 hour.
Season the slaw with more salt and pepper just before serving, and top with celery leaves.
< Back to Recipes