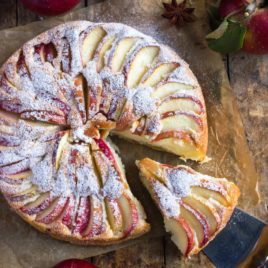 Autumn brings jumpers and scarves and food that warms us up! This vegan apple cake is a delicious dessert perfect for a drizzly afternoon.
VEGAN APPLE CAKE
Serves: 8
INGREDIENTS
150g dairy-free spread, melted, plus extra for the tin
300ml oat milk
1 tbsp lemon juice
350g self-raising flour, plus 1 tbsp to coat the apples
100g caster sugar
100g light brown soft sugar
1 tsp baking powder
1/2 tsp salt
1 tsp almond extract
300g apples, peeled, cored and chopped into 2cm cubes
2 tbsp flaked almonds
METHOD
Begin by buttering a 20cm deep cake tin and line with baking paper. Heat the oven to gas mark 4/180C. Into a jug, pour in the oat milk and lemon juice – leaving the mixture to sit for 5 mins.
Put the flour, both sugars and the baking powder in a large bowl, pour over the thickened oat milk mixture and almond extract, then add the butter and ½ tsp salt. Beat everything together using an electric whisk. Tip the apples into a second large bowl, sprinkle over the extra 1 tbsp flour and toss to coat. Fold the apples through the cake batter using a spatula, then spoon the mixture into the prepared tin and sprinkle over the almonds.
Add the flour, sugars and baking powder into a large mixing bowl. Incorporate the thickened oat milk and finally, the butter and 1/2 tsp salt. Combine everything together in a food processor or with an electric whisk. Before adding the apples to the cake batter, pop them into a separate bowl and sprinkle the extra flour to coat. Fold the apples through the cake batter, spooning the mixture into the prepared tin. Top with a little extra sugar and the almonds.
Bake for an hour, or until the cake is golden and firm to touch. Set aside to cool for 20 mins before tucking in with some yummy vegan cream or ice cream.
< Back to Recipes