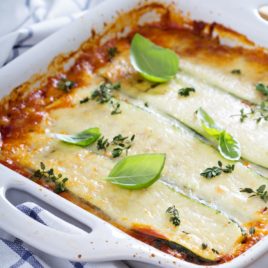 Use our locally sourced Tewkesbury courgettes as a great pasta substitute in this vegan lasagne. Makes six portions, so ideal for a week's worth of yummy meals, or a big meal for the family!
Vegan Courgette Lasagne
Serves: 6
INGREDIENTS
Filling:
4 tbsp olive oil
1 large onion, diced
2 carrots, chopped into 1cm rounds
250g mushrooms, diced
3 cloves garlic, crushed
400g tin of green lentils, drained
2 x 400g tin chopped tomatoes
Handful of fresh basil, chopped
1 tsp sugar
1 vegan veg stock cube
150g kale, stalk ends removed, cut in half
3 large courgettes, sliced thinly lengthways
White sauce:
3 tbsp vegetable oil
100g plain flour
800ml of oat milk
3 tbsp nutritional yeast flakes
1/4 tsp nutmeg
Seasoning
METHOD
Preheat the oven to gas mark 6/200C.
Into a large saucepan, heat the olive oil on a medium heat. Add the onion gently and fry for 3-4 mins. Follow with the carrots,
mushrooms and garlic, giving everything a good stir to coat in oil, and continuing to stir to stop the vegetables from catching.
After 10 mins or so, pour in the lentils, tomatoes, basil, sugar and crumble the stock cube over. Stir to thoroughly combine and add 400ml
of extra water (swirl water in the tomato tins to get any remaining sauce out). Reduce the heat to a simmer and cook for around 15 mins. Add the kale within the final 1-2 mins, before removing the pan from the hob and setting aside.
While the vegetables are simmering, make the white sauce. Heat the oil in a medium saucepan. When it is hot, add the flour and cook,
stirring all the time, for 1 minute. Stir in the milk, yeast and nutmeg, seasoning well with salt and pepper.
Bring to a simmer, whisking constantly with a metal whisk over a moderate heat for 4–5 minutes, or until smooth and thickened.
Season well, and be generous with the black pepper.
Spread a third of the vegetable mixture over the base of an ovenproof lasagne dish and cover with a single layer of the aubergines. Top with another third of the vegetable mixture and a covering of courgette slices.
Pour over just under half of the white sauce, and very gently top with the remaining vegetable mixture. Finish with a final layer of courgette and the rest of the white sauce.
Bake for 35–40 minutes, or until the courgette has softened and the topping is nicely browned and bubbling. Stand for 5 minutes before cutting to allow the filling to settle.
< Back to Recipes