TOMATO AND BEAN PESTO FETTUCCINE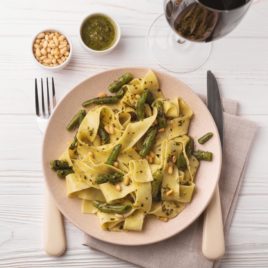 Our new Better Food Editions pasta is the staple with a delicious story. Produced over in Penne, Italy, using organic ancient wheat grains spelt and senatore Cappelli, our pasta range takes this Italian staple to whole new levels of deliciousness. The range is rustic, capturing that lovely wholesome feel. It's such a tasty range, we're wondering how many more ways we can enjoy fettuccine this week!
Thankfully, this recipe is so versatile, you can enjoy it lots of different ways. Add seasonal veg like courgettes, or winter squash, or chop up purple sprouting broccoli. This meal is even tastier with our Better Editions red wine or juice.
TOMATO AND BEAN PESTO FETTUCCINE
Serves: 4
Ingredients
500g fresh tomatoes
Handful of torn basil, plus extra for topping
3 cloves of garlic, crushed and minced
1 tbsp olive oil
Seasoning
250g of French beans, chopped into 2cm chunks
250g Better Editions Fettuccine pasta
For the pesto:
30ml olive oil
5g pine nuts
Handful of basil, chopped
2 garlic cloves, chopped
5g Walnuts, chopped
To serve:
150g grated dairy or vegan cheddar
Method
Preheat the oven to gas mark 5/190C. Into a baking tray, arrange the tomatoes and everything else except the beans and pasta, drizzling over the olive oil and seasoning. Bake the tomatoes for 30 mins, or until golden and juicy.
Meanwhile, take a large saucepan and place in the fettuccine. If you have one, use a steamer attachment for the beans, if not, you can mix them in with the pasta part-way through cooking. Cover with warm water and turn the hob to a medium flame, boiling the pasta (see pack instructions for time) and add the beans for the last 10 mins once the water starts simmering, or until everything has softened enough to eat with a fork.
Add the pesto ingredients into a blender and blitz until the ingredients form a paste.
Once the pasta is cooked and the tomatoes are done, drain the pasta and add the ingredients into the same pan. Stir in well with a spoon. Serve up with freshly torn basil and delicious cheese for a simple summer celebration of food.
Fancy 10% OFF your favourite organic ingredients? Sign up to our email and get a voucher straight to your inbox.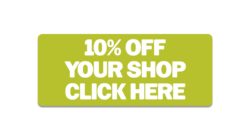 < Back to Recipes