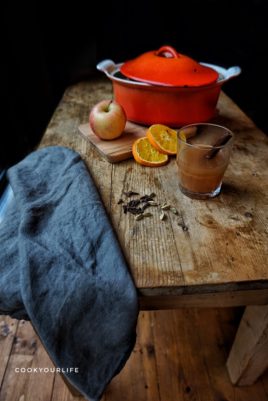 What could be more pleasing on a wintry evening than a mug of apple cider? This recipe not only warms the spirits, but without the alcohol, it's a delicious drink that can be enjoyed at any time.
APPLE CIDER
Serve: 750 ml          Time: 30 minutes          Level: Easy
Ingredients
500ml apple juice
1 Tbsp apple vinegar
A stick of cinnamon
1 clove
juice & zest of 1 orange
zest of 1 lemon
Method
Add all ingredients into your best pan and heat for about 20 minutes.
Serve hot with a stick of cinnamon in a glass.
*Melanie R. Gonzalez is the creative force behind CookYourLife, She makes original recipes that taste great, look beautiful and have incredible health benefits. She cooks all around the world, leading workshops, working as a yoga retreat chef, writing her first book and sharing her passion as a food stylist & blogger.
< Back to Recipes