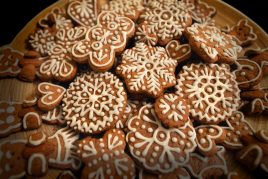 These simple ginger biscuits are perfect to make with kids during the holidays, and they make a lovely gift.
Ginger biscuits
Serves: 4          Time: 10 minutes          Level: Easy
Ingredients
75g softened butter
50g caster sugar
½ tsp bicarbonate of soda
50g fruit syrup or honey
2 egg yolks
250g plain flour
½ tsp ground cinnamon
½ tsp ground ginger
Method
Preheat oven to 180C/fan 160C/gas 4. Beat the butter with caster sugar into a cream. Stir in bicarbonate of soda, syrup
and the egg yolks.
Sift in flour, cinnamon and ginger. Fold in with a wooden spoon.
Shape into two balls and knead into a doughy consistency. Put in the fridge to chill for 30 mins.
Roll out one ball at a time, to about 5-8mm thick, and stamp out your festive shapes as desired.
Place shapes onto greased baking sheets and bake for 10-12 mins until slightly risen and golden brown.
Cool on a wire rack – they'll keep in an airtight container for about a week.
< Back to Recipes