Beetroot and Orange Salad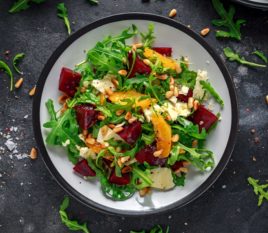 A match made in heaven. Beautiful deep purple beetroot complements the zesty orange segments in this simple salad. Add the crumbled feta and this recipe really is a winner for the weekend.
Beetroot and Orange Salad
Serves: 2
Ingredients
4 oranges, pulled into segments with the skin removed
1 tbsp red wine vinegar
2 tbsp olive oil
4 beetroot, roasted and peeled
200g feta, crumbled
A handful of torn parsley
250g rocket
Handful of chopped walnuts
Method
Into a large mixing bowl, add the orange segments, along with the other ingredients up to the feta. Give everything a good mix and set aside to marinate. After 10 mins, add the feta and fresh parsley. Serve up with the rocket and the walnuts for a lovely early spring light bite.
< Back to Recipes