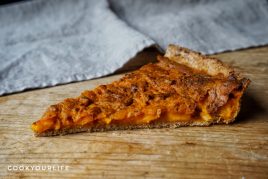 An inventive way of using up extra pumpkin. Make this pumpkin quiche vegetarian or make it vegan.
Pumpkin quiche
Ingredients
Base:
250g wheat, spelt or rye flour (I used spelt flour this time).
60ml olive oil
80ml water
Filling:
1 pumpkin
250ml of cream (dairy, soya, oat…)
4 eggs (or 4 tablespoons of ground flaxseed with 8 tablespoons of water)
1/4 cup sunflowers seeds
A pinch of nutmeg
Salt and pepper to taste
Method
Put the flour in a bowl
Add oil, mix well and then add the water to combine
Use your hands to bring together in a ball.
Wrap in cling film and chill in the fridge for 30 mins.
Meanwhile, roast the pumpkin, whole, in the oven – this usually takes about an hour. A useful tip: check at about the 50 minute mark by poking a knife into the middle. If the knife glides through the middle without much resistance then it is done. There is no need for salt or oil but feel free to coat the pumpkin before roasting if you wish.
Roll out the pastry and place over a pie tin. Use your fingers to push the pastry into the corner. Trim any excess pastry but leave an extra inch or so around the edges as the pastry will shrink when it cooks. Bake in the oven for about 10 minutes. Fill the pastry with ceramic baking beans or raw beans in order to keep the pastry flat.
Whisk the eggs or flaxseed mixture in a bowl, add the cream, seeds and pumpkin. I love to add nutmeg, pepper and salt but feel free to add your own herbs and spices.
After the pastry is cooked a bit add all your ingredients and bake in a oven for 30 minutes or until the mix is set and golden on top.
Cool, trim of the excess pastry, remove from the tin and slice.
*Melanie R. Gonzalez is the creative force behind CookYourLife, She makes original recipes that taste great, look beautiful and have incredible health benefits. She cooks all around the world, leading workshops, working as a yoga retreat chef, writing her first book and sharing her passion as a food stylist & blogger.
< Back to Recipes