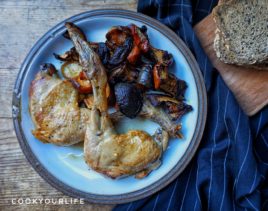 Kombucha roasted chicken – if you like to experiment, this recipe is for you. By adding kombucha – a Chinese drink made from black tea – you get a fantastic palette of new flavours.
KOMBUCHA ROASTED CHICKEN WITH ROASTED SEASONAL VEGETABLES
Serves: 2          Time: 50 minutes          Level: Easy
Ingredients
2 large, free-range chicken drumsticks
4 cloves of garlic
A mixture of organic seasonal root vegetables cut into chunks (around 500g)
200ml Kombucha
A lemon
Olive oil
Method
Pre-heat the oven to 200°C
Drizzle a glug of olive oil on an oven tray and place the chicken on top, skin down. Roast for about 10 minutes.
Take the tray out, turn over the chicken and add the garlic and vegetables.
Drizzle the kombucha over everything, squeeze the juice of the lemon and then leave it on the tray.
Roast for another 30-40 minutes, checking regularly to spoon the liquid over the chicken and vegetables.
Enjoy!
*Melanie R. Gonzalez is the creative force behind CookYourLife, She makes original recipes that taste great, look beautiful and have incredible health benefits. She cooks all around the world, leading workshops, working as a yoga retreat chef, writing her first book and sharing her passion as a food stylist & blogger.
< Back to Recipes