Spiced Cauliflower and Lentil Salad with Miso Dressing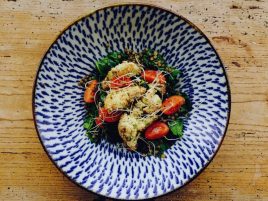 Spicy, fresh and full of nutrition – this spiced cauliflower and lentil salad is perfect for lunch or dinner.
Spiced Cauliflower and Lentil Salad with Miso Dressing
Serves: 2                 Time: 30 minutes                     Level: Easy
Ingredients
For the Salad:
150g green or puy lentils, soaked in water for a couple of hours
1 small cauliflower head, or ½ a large one, chopped into bitesize florets
1 Tbsp coriander seeds
¼ Tbsp fennel seeds
1 Tbsp cumin seeds
5 peppercorns
1 Tbsp coconut oil, melted
2 big handfuls of spinach
6 cherry tomatoes, quartered
Broccoli sprouts, to garnish
For the Dressing:
1 Tbsp extra virgin olive oil
1 tsp white miso paste
Juice of ½ a lemon
1 small garlic clove, crushed
Black pepper, to taste
Method
Pre-heat the oven to 170degrees/gas mark 3.
Add the soaked lentils to a pan of boiling water. Bring to the boil, then reduce to a steady simmer with the lid on. Cook for 15- 20 minutes (or until the lentils are al dente – with a little bite).
Meanwhile, place the chopped cauliflower on a baking tray. Grind the cumin, coriander, fennel seeds and peppercorns in a pestle and mortar or spice grinder. Pour the melted coconut oil over the cauliflower, add the ground spices and toss so the florets are well coated. Place in the oven and cook for 15-20 minutes (or until the cauliflower is cooked through and just starting to catch colour).
Whilst the cauliflower and lentils are cooking, make the miso dressing. In a small bowl, mix together the olive oil, miso paste, lemon juice and crushed garlic, and season with black pepper. Taste and adjust the balance of acidity as needed.
When the lentils are cooked, drain well before putting them back in the pan. Add the spinach leaves and place the lid back on for a few minutes so the heat from the lentils gently wilts the leaves. Mix in the cherry tomatoes, pour over the dressing and mix well. Serve the cauliflower on top of the lentil mixture and sprinkle with broccoli sprouts.
This salad can be served hot or cold and will keep for 3-4 days in the fridge. Making a big bowl at the beginning of the week to take for quick, easy lunches works well. If doing this, keep the dressing separately in a glass jar and dress each portion just before eating. As this recipe is gluten- and dairy-free and vegan, it's great for all dietary requirements.
Where to buy?
All ingredients in this recipe are available to purchase in store. We recommend picking up a box of Alfalfa & Broccoli sprouts from Sky Sprouts in our produce section. If you are feeling adventurous try sprouting at home using a BioSnacky sprouter by A. Vogel.
Hannah Braye is a registered nutritional therapist providing evidence-based nutrition advice from a naturopathic, person-centred approach. She offers 1-1 consultations, personalised nutrition and lifestyle recommendations, meal plans, recipes and continuing support to help you meet your health goals.
Hannah is also a member of the World Health Heroes, a network of health and well-being practitioners, promoting affordable health and well-being across local communities; an Assistant Clinical Supervisor at the College of Naturopathic Medicine; and she works part-time for the Soil Association.
< Back to Recipes