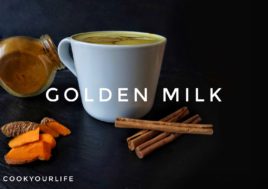 Turmeric is all the rage and it's easy to see why. With its anti-inflammatory benefits, it's an excellent spice for the cupboard and it makes a tasty drink when added to milk. Give this turmeric milk recipe a go.
Turmeric or Golden Milk
Serve: 1 cup          Time: 2-5 minutes          Level: Easy
Ingredients
250 ml of almond milk or another of your favourite milks
1 Tbsp coconut oil
1 tsp of turmeric power
A pinch of cinnamon
Extra water if necessary
Method
Heat your milk in a pan with all the ingredients.
Stir, and serve hot with a pinch of cinnamon on top. It's that simple.
*Melanie R. Gonzalez is the creative force behind CookYourLife, She makes original recipes that taste great, look beautiful and have incredible health benefits. She cooks all around the world, leading workshops, working as a yoga retreat chef, writing her first book and sharing her passion as a food stylist & blogger.
< Back to Recipes