Super Summery Sprouty Salad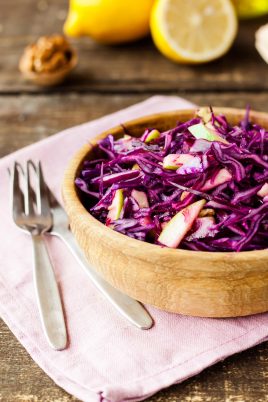 A lovely bright and colourful salad that will appeal to your eyes as well as to your taste buds, with a simple and tasty curried dressing …
Ingredients
Salad
1 bunch of fresh coriander, chopped
Fresh rosemary – amount to taste
1 bunch of dill, chopped
1/4 head of red cabbage sliced thinly and cored
1/2 bunch chard chopped – (rainbow chard if possible), with rough stems removed
100g sprouted legumes eg. Chickpeas, lentils, mungbeans
Dressing
1 apple, diced
20g soaked cashews
1 tablespoon grated root ginger
1 clove garlic
1 dessert spoon curry powder
1 cup virgin cold-pressed olive oil
Juice of 1 lemon
1/2 teaspoon sea salt (optional)
Method
Mix all the salad ingredients together in a bowl.
Place all the dressing ingredients in a blender and blend until smooth.
Mix the salad and dressing together and serve.  Simple!
Read our Living Foods for Summer blog.
---
Thanks to the College of Naturopathic Medicine for this recipe
If you're fascinated by the impact of Nutrition on health, you can find out more about training with CNM for a career in Nutritional Therapy, by attending a free Open Evening.
For more details or to reserve your place at forthcoming events, call 01342 410 505, email info@naturopathy-uk.com or visit www.naturopathy-uk.com.
< Back to Recipes