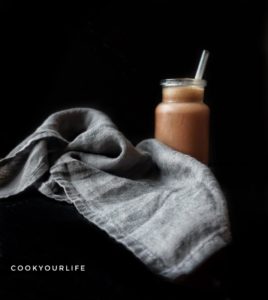 In the Better Food freezers I found packets of organic strawberries and berries, and it reminded me of a nice smoothie I made a few months back. That's the great thing about frozen berries – even during the hunger gap we can eat food rich in nutrients. They are usually picked in season meaning their impact on the environment is lighter than fresh berries bought out of season. Smoothies are perfect as a snack, or to have as breakfast one morning. This berry smoothie is light on the stomach but full of energy and mood boosting properties. My YouTube channel shows you how easy it is to make – take a look at the video and learn a few Spanish word while you watch!
BERRY SMOOTHIE
Serves: 1 person                   Level: easy                  Time: 2 minutes
Ingredients:
2 handfuls of spinach
1 handfuls of your favourite berries
½ a banana
1 Tbsp of ground seed mix. A combination of flax seeds, sesame seeds, sunflower seed & pumpkin seeds works well. Use double the amount of flax to other seeds.
300 ml of your favourite plant or nut milk
1 tsp coconut oil
Instructions:
Add all ingredients to a blender and blitz for a few minutes, until everything is combined
Serve straight away, in a tall glass, and add a cube of ice or two if you want it to be extra refreshing
Melanie R. Gonzalez is the creative force behind CookYourLife, She makes original recipes that taste great, look beautiful and have incredible health benefits. She cooks all around the world, leading workshops, working as a yoga retreat chef, is writing her first book and sharing her passion as a food stylist & blogger.
< Back to Recipes