Apricot, Walnut, Beetroot and Spinach Couscous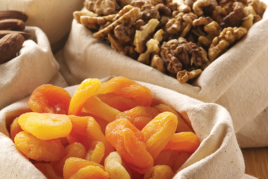 This delicious recipe has been designed specifically using ingredients you can get from our growing range of packaging free products. For more information about how you can use less plastic, read our shopping guide, and to find out about our journey out of the current crisis, read our article Much Ado About Plastic.
Ingredients
(serves 2)
4 blocks of unpackaged frozen spinach or 200g fresh spinach
1 orange, zested
140g couscous
6 dried apricots, chopped
25g walnut pieces
2 medium-sized beetroot,
cooked, peeled and quartered
½ lemon
Fresh coriander
You'll find these ingredients in:
• fresh produce (all stores)
• refill wall (St Werburghs and Whiteladies Road)
• refill freezer (St Werburghs)
• one of Bristol's edible beds (including outside our Wapping Wharf store)
Method
If you're using frozen spinach, pop it in a microwave for around a minute, or until defrosted.
Put the orange zest and juice, along with 100ml of water into a saucepan and bring to the boil. Pour the couscous into a medium-sized bowl and then add the boiling water.
Set to one side for 5 mins, whilst the couscous absorbs the water.
Once the couscous has puffed up, run a fork through the grains. Next, add the dried apricots, quartered beetroot,
spinach and thoroughly combine.
Squeeze over the lemon juice and season with salt and pepper, as well as some freshly picked coriander from the garden, or from a Bristol edible bed (there's one outside our Wapping Wharf store – you're very welcome to help yourselves).
< Back to Recipes