Banana, Berry and Chocolate Vegan Ice Cream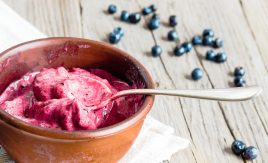 This is the easiest and healthiest 'ice cream' recipe imaginable – delicious and guilt free, though you do need a sturdy blender to cope with the frozen bananas.
Ingredients
4 bananas, peeled
2 handfuls of chilled summer berries (strawberries, raspberries, blackberries, blueberries etc), chopped
65g dark chocolate, finely chopped
Method
Freeze the bananas in chunks for several hours, until fully frozen.
Blend the bananas in an electric blender until they are smooth and creamy (3-4 mins).
Add half the berries and quickly blend again to combine.
Transfer the mixture to a large mixing bowl and fold in the chocolate and remaining berries.
For a firmer consistency, return to the freezer for 10-15 minutes.
Serve immediately.
< Back to Recipes