Christmas Leftovers Quiche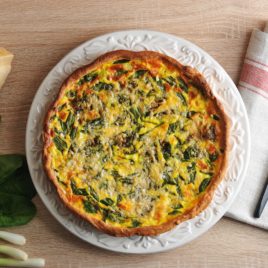 This Christmas leftovers quiche recipe is the perfect way to use up any greens and meats you have left over from Christmas. Serve up with even more delicious leftovers for a scrumptious winter feast.
CHRISTMAS LEFTOVERS QUICHE
Serves: 6
Ingredients
1 sheet of ready rolled pastry
200g leftover Christmas greens
50g of leftover cheese (blue cheese is beautiful here)
100g of meat or vegan sausages
200ml double cream
3 eggs, well beaten
Seasoning
Sprig of rosemary, chopped up
Method
Preheat the oven to gas mark 5/190C. Grease and line a shallow, round baking tin. Lay the premade pastry on top and cut any sides that overhang (use these to make cheesy pastry balls!).
Add the greens, meat and half of the cheese. Into a mixing jug, combine the double cream and egg together. Season well and pour over the top of the filling. Finish with the torn rosemary and the rest of the cheese, before adding the quiche to the oven for 35 mins, or until golden brown and firm when touched on top.
Serve up with leftover potatoes, stuffing and anything else you need to use up for a truly delicious festive feast.
< Back to Recipes