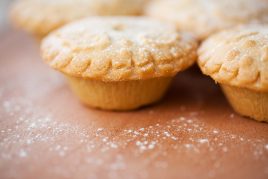 Mince pies are a  British classic, normally eaten around Christmas, best served warm with brandy cream. This recipe can be easily modified depending on what's in season. In Autumn, why not try using apples and blackberries instead of mincemeat, and in spring you could try rhubarb and serve with custard. The world is your oyster once you crack this recipe.
MINCE PIES
Ingredients
560g mincemeat
A dash of milk
350g plain flour
75g lard or vegetable suet
75g butter
icing sugar
pinch of salt
one (or two) 6cm patty tin
one fluted 7.5cm pastry cutter
one 6cm cutter
Method
Pre-heat the oven to gas mark 6, 400°F. Sift the flour and salt into a mixing bowl and rub the fats into it until the mixture resembles fine bread crumbs.
Add just enough cold water so that the mixture leaves the bowl clean.
Put the pastry in a plastic bag or bowl and leave in the fridge for half an hour.
Roll half of the pastry out as thinly as possible and cut it into twenty four 7.5cm rounds, gathering up the scraps and re-rolling.
Do the same with the other half of the pastry, this time using a 6cm cutter.
Grease a patty tin lightly and line them with the larger rounds. Fill these with
mincemeat to the level of the edges of the pastry.
Dampen the edges of the smaller rounds of pastry with water and press them lightly into position to form lids, sealing the edges.
Brush each one with milk and make three snips in the tops with a pair of scissors. Bake near the top of the oven for 25-30 mins until light golden brown.
Cool on a wire tray and sprinkle with icing sugar.
Enjoy your delicious mince pies!
< Back to Recipes