Nutty Mushroom Wellington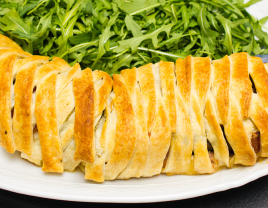 A great centrepiece to a plant-based feast. You can buy ready made vegan pastry, but for a real treat, try making coconut short crust pastry.
Ingredients
1 tbsp olive oil
2 leeks, chopped
1 head of celery, chopped
3 medium cloves garlic, crushed
bunch of fresh herbs, such as rosemary, thyme or bay leaves (or all three)
200g mushrooms, roughly sliced
200g cooked chestnuts, roughly chopped
½ tsp yeast extract or vegan Worcester sauce
1 tbsp lemon juice
½ jar cranberry sauce (optional)
330g pastry (see our coconut pastry recipe)
soya milk for brushing
Method
Fry the leeks, celery and garlic for 5 mins in a large saucepan.
Add the herbs and cook until medium brown, then add the mushrooms and continue to cook on a medium heat until brown.
Add the chestnuts, yeast extract (or Worcestershire sauce) and lemon juice, and mix well. Season to taste. Make sure you remove the bay leaves and any stalky bits of herbs.
Flour a board and roll the pastry into a large rectangle (about 20×30 cm). Carefully move it on to a lightly oiled baking tray. Spread the cranberry sauce on the central part of the pastry, then spoon the mushroom filling into a sausage shape down the centre of the rectangle.
Make diagonal cuts in the pastry 2cm apart on each side of the mushroom mixture, and fold them in together to create the effect of a plait. Tidy and trim the ends of the pastry and brush with soya milk.
Bake in a medium oven (180c/gas 4 conventional oven) for 40 mins, or until the pastry is puffed and golden brown.
< Back to Recipes