Turkey – how to roast it to perfection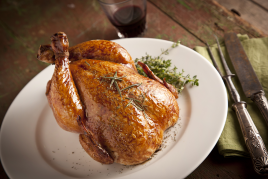 Whether you're a seasoned chef or a kitchen novice, get ready to create a centrepiece that will have your guests coming back for more.
Calculate your cooking time
British Turkey have an excellent cooking calculator. Simply enter the weight of your turkey in kilo's, including stuffing, to get your cooking time. Generally, it's 20 minutes per kg plus 90 minutes.
Method
1. Preheat your oven to 180°C (Fan) / 375°F / Gas Mark 5.
2. Place the turkey in a large roasting tin, spread butter all over and season.
3. Cover loosely with foil and put it in the oven, basting occasionally with juices from the pan.
4. To check if it's cooked, make sure the juices run clear when you pierce the thigh where it meets the body. If not, put it back in the oven for another 20 minutes, then test again.
5. Transfer the turkey to a serving plate, cover with foil and rest in a warm place for 20 minutes – this makes carving easier.
6. Serve with your choice of trimmings and enjoy!
Giblets
Giblets are in a plastic bag inside your turkey – don't forget to remove them before cooking! They're packed full of flavour so make the most of them, they're great for gravy or to make a stock for soups. For more information, read our blog on what to do with giblets.
If you're looking for an organic turkey for your Christmas dinner, check out our Christmas order form for more details.
< Back to Recipes