Turkey – how to roast it to perfection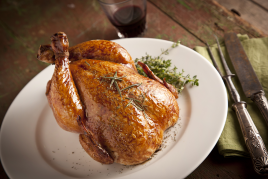 Advice from British Turkey says to cook for 20 mins per kg, plus 90 mins to rest before serving. Their website has a useful calculator to work out the exact times.
Don't forget to remove the giblets – they're in a plastic bag inside your turkey.
Store your turkey in the fridge if possible. If there's no room, keep it in a box in the coolest place you can find – usually the garage, with ice packs around it if the ambient temperature is above 4c.
Bring it into ambient temperature of the kitchen first thing on Christmas morning or at least two hours before you start cooking it.
Pre-heat the oven to 180c (160c for fan ovens)/Gas 5.
Generally, the advice these days is not to stuff the bird as it complicates cooking time, making it harder to tell when it's fully cooked.
Place it breast down in a large roasting tin. Starting upside down keeps the white breast meat moist in the early stages of cooking.
There's no need to cover with foil, as this means the meat steams instead of roasts, making the skin floppy and the meat 'wet'.
Add salt and pepper to the back of the turkey and half a litre of water in the roasting tin.
Turn the turkey over half way through by holding the drumsticks with oven gloves. Then season the breast with salt and pepper before putting it back in the oven.
If you have a thermometer, check the temperature 30 minutes before the end of the cooking time by inserting it through the thickest part of the breast. It should read 65C. Keep checking every 10 minutes or so until it's ready.
Remove from the oven and rest for at least 30 minutes before carving (a good time to get the veg organised). This resting time is really important as it allows the juices to settle back into the meat. Don't be tempted to cover it either, as the heat in the bird would steam it.
See www.britishturkey.co.uk for more information.
< Back to Recipes