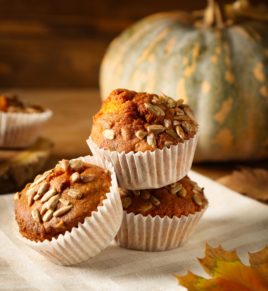 A staggering 18,000 tonnes of pumpkins are wasted every year. This Halloween, give our vegan muffin recipe a try after carving your pumpkins. These warming, spicy cupcakes are perfect for Autumn nights!
Vegan Pumpkin Muffins
Makes 12 muffins
Ingredients
200g pumpkin or squash flesh, cut into cubes
1 banana
75g unrefined sugar, plus extra for rolling
180g wholemeal flour
1½ tsp baking powder
¼ tsp baking soda
40ml soya yoghurt
1 tsp mixed spice
20g cashews, blended in the processor
20g of medjool dates, chopped
50g pumpkin seeds, for scattering (bake these at Gas mark 2/150°C for 20 mins beforehand)
Method
Heat the oven to 200C/gas 6 and grease 12 muffin cups.

Put the cubed pumpkin in a pan, cover with water and simmer until soft. Drain and blend to a puree.

Into a pan, place your pumpkin cubes, cover with water and cook until soft on a medium heat. Drain the water and then add your pumpkin to blender to turn into a puree.

Beat the mashed banana and sugar, until combined, then mix in the wholemeal flour, baking powder, blitzed cashews, dates, baking soda, allspice, soya yoghurt and pureed pumpkin, until thoroughly combined. Half-fill each muffin cup with the mix, scatter over your pumpkin seeds and bake for 20 minutes, or until bouncy.
Serve as a warming Autumnal treat and save on your pumpkin waste!
< Back to Recipes