Banana Bread with Roast Chestnuts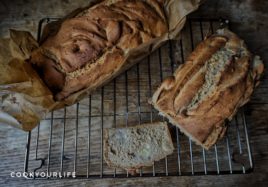 As many of you know, Better Food features a very popular vegan banana bread on their café menu. It's a simple, delicious and filling recipe. As a guest blogger at BF I always try to chat with the chefs working there, usually over a slice of banana bread, to see what's hot in the café. When I asked Liza, the pastry chef, for some suggestions she was quick to talk banana bread. I have added a perennial seasonal favourite to their sweet treat: roast chestnuts! Why not? Combining banana with the earthy flavour of roast chestnuts produces an amazing taste. You can buy all of these ingredients in store**, and they are all organic!
BANANA BREAD WITH ROAST CHESTNUTS
Serves: 2 loaves                              Time: 60 minutes               Level: Easy
Ingredients:
400g bananas, or around 3 large bananas, plus 1 extra for texture
400g all purpose flour
300ml soya milk/your favourite vegan milk
80ml vegetable oil
100g your favourite sweetener (I used coconut sugar)
1Tbsp of orange extract
2Tbsp baking powder
200g chestnuts
Instructions:
Score the chestnuts along the middle and grill for about 20 minutes.
In a blender, add all the other ingredients and mix well until sticky and dough-like.
Let chestnuts cool and then peel.
Slice the extra banana and add to the mix along with the shelled chestnuts.
Line 2 bread tins with baking paper and spoon in the mixture. Bake at 190C for about 45-55 minutes until baked golden on the outside and a knife slides out clean.
Enjoy!
*Melanie R. Gonzalez is the creative force behind CookYourLife, She makes original recipes that taste great, look beautiful and have incredible health benefits. She cooks all around the world, leading workshops, working as a yoga retreat chef, writing her first book and sharing her passion as a food stylist & blogger.
** we only stock chestnuts when in season
< Back to Recipes