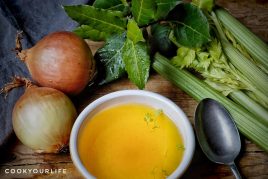 Chicken broth is considered a powerful, healing meal because it adds essential nutrients to your body, and nourishes your gut. Nutritionists recommend chicken broth as a complementary medicine for leaky gut, low immunity and food intolerances. If you believe you may have any of these conditions then please consult a nutritionist, Chinese medic or Ayurveda therapist for proper diagnosis and a course of action tailored to your individual needs. It is likely they will recommend broth but it is always best to understand what it is your body is lacking from a holistic therapist first.
As the name suggests, traditionally this broth is made with meat. However you can achieve similar effects on your body with a vegan-friendly alternative using mushrooms. I include both options so you can choose which one is suitable for you. All ingredients are to be found in store and available as organic.
BROTH (CALDIN)
Ingredients:
3  carrots
3 onions
2 leeks
4 garlic gloves
2 handfuls of parsley
Olive Oil
4 sticks celery
2 bay leaves
1/2 chicken carcass for the meaty broth OR 300 grams shiitake mushrooms for the vegan broth
Instructions:
1. Add a little bit of olive oil to the bottom of a big casserole dish.
2. Add the chicken bones, heat and stir in the pan to give a little bronze colour.
3. Now add all the ingredients, and a couple of bay leaves as well.
4. Stir until the vegetables are soft.
5. Only now add enough water to cover all the ingredients.
6. Cook for about 8-14 hours. I recommend slow cooking for quite a while… some people leave it on for 24 hours.
7. Strain the liquid consome and enjoy the magic healing power of chicken/shiitake broth.
*Melanie R. Gonzalez is the creative force behind CookYourLife, She makes original recipes that taste great, look beautiful and have incredible health benefits. She cooks all around the world, leading workshops, working as a yoga retreat chef, writing her first book and sharing her passion as a food stylist & blogger.
< Back to Recipes