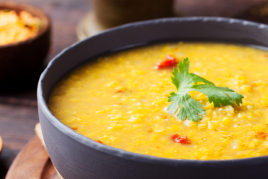 Dal (or dhal or dahl or daal) – that most perfect of comfort foods, cheap, tasty, filling, nourishing. This recipe is a great 'basic', and no less delicious for it. It's what we're serving during the Bristol Dal Trail (2018), and is adapted by our chef from a recipe in The Guardian
DAL
Serves: 4          Time: 80 minutes          Level: Medium
Ingredients
300g split red lentils
1 bunch fresh coriander
1 onion, peeled
Thumbnail-sized cube of ginger, peeled , thinly chopped
1/2 tsp fresh turmeric, peeled , thinly chopped
3 cloves garlic, peeled
1 mild green chilli
1 1/2 tsp black mustard seeds
2 tbsp sunflower oil
1 1/2 tsp ground coriander
1 tsp ground cumin
1/2 tsp ground turmeric
To garnish
Juice of 1 lime
Toasted desiccated Coconut
Chilli flakes, coriander leaves
Salt
Spoon full yogurt on top if not vegan
Method
Wash the lentils in plenty of water, drain and soak in a 400g of water for 30 minutes.
Chop the leafy top of the coriander and keep to one side.
Put the stem half in the bowl of a food processor, add the onion, ginger, garlic and chilli all roughly broken and pulse a few times to chop up without turning into a paste.
Put the mustard seeds in a heavy-based pot and place over medium heat. Don't overcook or they will taste bitter.
When they begin to pop, add the onion mix and sunflower oil, salt, stir and cook on low heat for 10 minutes. Add the spices and continue cooking and stirring for five minutes longer.
Now add the lentils and their soaking water. Simmer for about 30 minutes, until the lentils are fully cooked, stirring regularly so they don't stick.
Add the chopped coriander and fold through.
Season and garnish as required, adding lime juice, yogurt, chilli flakes and coconut.
< Back to Recipes