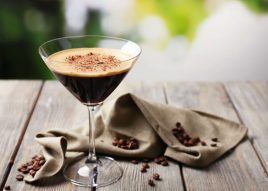 Last week Better Food had the pleasure of hosting a martini and chocolate tasting during Fairtrade Fortnight. Maura Jarquin Blandon*, a Fairtrade coffee and cacao grower, Matt Benyon and Adrian Wogan from Wogan Coffee Roasters, and Geoff Wright from Seed and Bean, all shared their stories and delighted us with drinks and food. Matt clearly enjoyed making the espresso martinis for our guests, and our guests enjoyed drinking them! The recipe below is the one used by Matt on the night – he kindly shared it with Better Food due to popular demand. We recommend pairing these drinks with Seed and Bean chocolate, and sipping on them after a dinner party. These martinis are easy to make but look impressive; great for tricking your friends into thinking you are an expert cocktail maker!
Fairtrade Espresso Martinis
Serves: 1
Ingredients:
1 x double espresso using Wogan's Feminino coffee
45ml vodka by Vintage Roots
15ml coffee liquor by Vintage Roots
5ml Gomme Syrup
Ice
Instructions:
Shake hard over ice and double strain into a martini glass, garnish with three coffee beans.
*Maura was invited to Bristol by Bristol's Fairtrade Network and Blinc (Bristol's Link in Nicaragua) for Fairtrade Fortnight.
< Back to Recipes