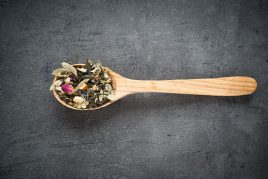 This February I've decided to focus on drinks for the Better Food recipe blog – and in this blog Sencha tea. I've done so as a reminder to drink more water and liquids, and because taking time and space to relax and enjoy (non-alcoholic) drinks is an important part of a healthy lifestyle.
For this recipe I've come up with a lovely little loose leaf tea combination. I started experimenting with tea combinations when I first moved to Britain and got sucked into the tea-drinking culture. I would create new tea mixes to enjoy at different times of the day – some of them tasting better than others. When my friends in Japan sent me new flavours through the post, I got the idea to slowly add teas from different countries to the mix. And this is how this recipe came about. This Japanese rose tea is so delicious as it is you don't need to add any sweetener.
SENCHA AND ROSE TEA
Serve: 2 people.    Time: 2 minutes.    Level: Easy
Ingredients:
1/2 cup organic rose petals
1/2 organic Japanese Sencha Green Tea
Instructions:
Everyone has their own way to make tea! This is just mine…!
Add hot water to your tea pot.
Slowly add your tea leaves to the colander inside of your pot.
Make sure you read the brewing directions on your tea packet to avoid stewing the tea.
Serve in your favourite cup and enjoy, either curled up with a book or shared with a friend – ahhhhh!
Better Food stock Clearspring Sencha tea, and rose petals can be found at Asian supermarkets like Sweetmart.
*Melanie R. Gonzalez is the creative force behind CookYourLife, She makes original recipes that taste great, look beautiful and have incredible health benefits. She cooks all around the world, leading workshops, working as a yoga retreat chef, is writing her first book and sharing her passion as a food stylist & blogger
< Back to Recipes