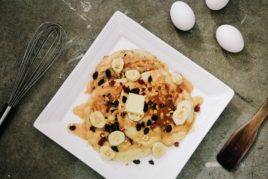 Shrove Tuesday, the day before Lent, is synonymous with Pancake Day. Shrove is the past tense of the word shrive, which means to absolve from sin. In the Middle Ages, in the predominantly Christian areas of Northern Europe and England, it was customary to confess one's sins on this day before a month of abstinence. Back then, all meat, animal products and fat were off the menu during the lead-up to Easter. That is why food such as pancakes were cooked; to use up eggs and milk from the pantry.
While traditional crepes, made with flour, milk and eggs, are a go-to for most, topped with lemon and sugar, increasingly people are experimenting with different ingredients and flavours. Drop scones or American-style pancakes made with buttermilk and a raising agent and topped with maple syrup and bacon are particularly trendy right now. And for those with different dietary needs, there's gluten free, sugar free and even vegan options. The world is our oyster. Here, we share with you two of our favourite recipes to try on Tuesday (or anytime for that matter!). And if you are in store on the day, why not try their vegan pancakes with pomegranate, coconut and banana.
These pancakes are vegan and gluten-free. They are also simple to make, so perfect to try with kids. Pile them high and top with whatever you fancy – the toppings we've used give this recipe a distinct banana bread taste… hence the name.
Banana bread pancakes
Serves: 4          Time: 20 minutes          Level: Easy
Ingredients
150g gluten-free rolled oats
75g organic whole wheat or gf flour
2 tsp gf baking powder
½ tsp sea salt
300ml non-dairy milk
2 ripe Fairtrade bananas, mashed (use eggs if not vegan)
A pinch of salt
1 Tbsp cinnamon
1/2 tsp nutmeg
1 tsp coconut oil
Toppings
Toasted walnuts
Caramelised bananas
Agave syrup
Method
Blend all the ingredients in a blender, except the banana and oil. Slowly add the banana (or egg).
Pour the mix onto a hot frying pan, coated in coconut oil.
Once the pancakes start to bubble, flip and cook for 1-2 minutes.
Serve with your favourite toppings.
< Back to Recipes